Australian Electoral Commission scales operations overnight using Microsoft Azure coverage
A Microsoft Press Release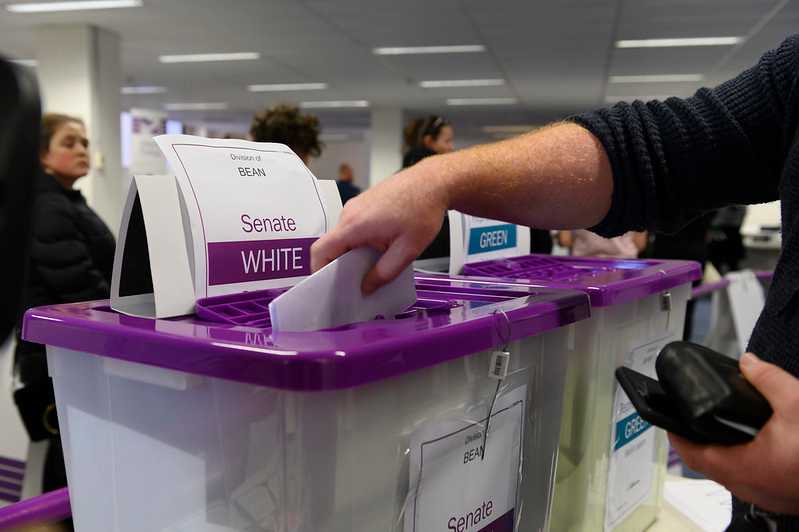 Microsoft News Center 24 January, 2020 - Original Post
On Thursday 11 April the Australian Electoral Commission had 780 employees. By Saturday the 18th of May, it needed to meet the needs of approximately 90,000. 
Welcome to a day in the life of the AEC, the federal agency that has oversight of federal elections in Australia. 
As the agency responsible for conducting federal elections and referendums the AEC exists in a state of perpetual alert; the moment an election is called it swings into action. It normally operates out of 90 premises around Australia and has 780 staff. When an election is announced that scales to more than 7,900 premises and approximately 90,000 staff. 
Besides conducting elections the AEC maintains the electoral roll, offers a range of electoral information and education programs and administers political party registrations and financial disclosures. In non–election periods the AEC website receives a moderate load, during the 2019 federal election it handled more than one billion-page views. 
Stewart Kerr, Director of Architecture and Modernisation at the AEC  acknowledges the synergies between the operating model of the Commission and cloud computing. It provides the AEC with the most effective way to deliver on-demand scale, diverse geographic reach and extreme resilience required of a nationally critical event such as a Federal Election. 
Australia utilises paper-based voting, and many of the core platforms operated in the AEC are decades old legacy systems – but it is on a transformation trajectory.  
Its 2018-2022 corporate plan outlines its modernisation proposals noting that it needs systems that are robust, nationally consistent and "built for continual evolution through all phases of the electoral cycle – maintaining the electoral roll, election planning, readiness and delivery." 
The core systems modernisation of the AEC has yet to begin; but it has made impressive progress with other transformation initiatives. 
Mr Kerr has been with the ICT branch of the AEC for more than 20 years and as he puts it "is passionate about delivering technology solutions that ensure the integrity and successful delivery of federal election for the Australian public" His role is to ensure that the technology decisions made by the AEC align with its strategic direction and deliver against business objectives. 
The four key tenets underpinning AEC's technology strategy are agility, data, security and resilience. "We like to describe ourselves as the perfect organisation for cloud services…all of those key tenets are found in modern cloud platforms and the AEC clearly benefits from them" he says.
"We don't know when an election will be, the Prime Minister announces the election on a date of his or her choosing. We have to scale immensely and we have to do it on-demand."
"So I guess from our perspective, we've got a challenging assignment. We've got this massive event to deliver. We don't know when it is. We know we have to massively scale, we know that we have to deliver it perfectly, and we know that there's a zero tolerance for failure," says Mr. Kerr.  
A new channel for electoral information and services 
During the most recent federal election the AEC used Microsoft Azure to develop and manage its first suite of public-facing APIs which exposed a range of data and services delivered by the Commission.
This included information feeds to broadcasters, news services, social media and search engines. 
"The more channels that our data can be exposed through in a controlled way the better, because that means we're increasing the number of people that are participating in the election or what we would call extending the franchise, opening up election services to more and more people who are entitled to participate," says David Lang, Chief Information Officer at the AEC. 
It was also a pioneering cloud project for the Federal Government as the AEC was the first federal agency to create an Express Route connection to Microsoft Azure AU Central regions, which has been designed specifically to support critical national computing and has been rated to Protected status by the Australian Signals Directorate. 
Mr. Lang adds that another important foundation element for the cloud-based API project was ensuring the AEC's on-premise identity solutions could integrate with Microsoft Azure Active Directory. They could and did. 
Beside developing the APIs, AEC leveraged Azure to manage access to them. 
Mr. Lang explains; "As an organisation, one of the key fundamentals of publishing an API to the outside world is making sure that you can manage the way that API is being used, that you can secure it effectively, that you have a central point of control and reporting, and that you can also publish really high quality documentation for the developers that are going to be consuming that API. Azure API Management provided a turn-key solution for the AEC, in which the heavy lifting associated with API hosting infrastructure was managed by the Microsoft Azure platform, which allowed the AEC to focus on developing great APIs for our consumers. 
"We delivered up a number of services that would allow people to, for example, check their enrolment through a mobile phone application. We delivered a service that published the list of polling places that were available during the election. We had a service that allowed you to get the geographic data that makes up an electoral boundary so media partners could easily call the service, grab that boundary data and render it on a map along with the locations of polling places. 
"Then ultimately we also had an API that provided a lightweight feed of real-time election results," which Mr. Lang explains was available in addition to AEC's existing results feed available directly over the internet, and was intended as a consumable feed for people creating their own election related services. 
And when it was all over –the AEC simply switched it off. 
"We're very different to most federal government departments in the fact that what we do is essentially a huge event management and logistics exercise, and unlike most event management companies, we actually don't  For example in the few short weeks of an election we produce and handle approximately 52 million ballot papers and transport them via more than 40,000 transport routes When you think about the AEC, normally we have very modest ICT requirements, however once an election is announced we rely on the professionalism, quality and agility of our staff, technology and partners to deliver a successful electoral event with transparency and integrity and cloud is a big part of that equation." says Kerr. 
Failure is simply not an option; it would leave the nation without a functioning government; an election would need to be re-run; and the public's trust in democracy and government would be damaged. 
Extreme availability 
The AEC operates in an environment that has zero tolerance for failure. As such the AEC  mirrored its mission critical systems that run on election night in the Microsoft Azure cloud to ensure that the real-time feed of elections results to the public and broadcast media partners were not disrupted. Prior to election night the AEC to load tested the entire system to what Mr. Kerr described as "some ridiculously high levels" to demonstrate the resilience of the approach.
After working with Veritec during the 2016 and 2019 elections, the AEC partnered with the organisation again on the proof of concept cloud project, and also engaged support from Microsoft's Canberra based cloud solution architecture team. "Veritec as always, were fantastic throughout this engagement. They really genuinely worked their guts out to get us a good outcome and facilitated numerous engagements with some of the more high-powered Microsoft teams locally and around the world. 
"For us that was an absolute winner on this engagement," says Kerr. 
According to Keiran Mott, CEO, Veritec; "The AEC performs a hugely important role in Australia but few people understand the extraordinary complexity of that role. We have a deep understanding of their ICT because we have a long working relationship.
"Here's an organisation that has to spin up fast, tackle huge numbers of transactions from almost a standing start with zero tolerance for downtime, and which must be secure."
It's a privilege to work with the Commission again on this critically important cloud proof of concept that delivered a whole raft of new and valuable services for the voting public." 
The AEC is now working on a self-service platform that will handle processes such as political party nominations and funding disclosures.  It is also working on an external portal for the public to post complaints, enquiries and feedback. 
The next major initiative for the AEC will be the refresh of its fleet of around 90 legacy systems – some running on equipment harking back to the 1990s.